Polarograph TEA 4000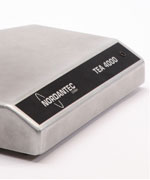 The TEA 4000 is a compact analyser with small place requirements which can be completely operated by a computer with the supplied measurement software.
A very reasonable purchase price and low operation expenses as well as the possibility to run off-grid with the optional battery pack makes the TEA 4000 polarograph the best solution for trace analysis – in the laboratory, in the factory and in the field.
Possible fields of applications
Quality assurance in the metal and electronics industry as well as in chemistry and food-production.
Investigation of waters and soil (environmental analysis).
Waste and process water monitoring.
Purity analysis in galvanic, metallurgy, etc. (ultra trace element analysis)
Tribodiagnostics in the engine industry.
and other applications.
Product features
Compact, minimum space requirements
Low investment and operating costs
Can be used without expensive inert gases
Very low detection limits in partial areas
Easy sample preparation and short analysis time
Simultaneous detection of more than one element possibl
(Optional) Portable system for outdoor analysis
Measuring methods
DC Direct current
DCS Direct current stripping
DP Differential pulse
DPS Differential pulse stripping
CV Cyclic voltammetry
Detects
Cations (heavy metalls), anions and organc compounds in liquid and solid samples (after appropriate digestion) and more
Downloads
Brochure [deutsch] / [english]
Methods [deutsch] / [english]